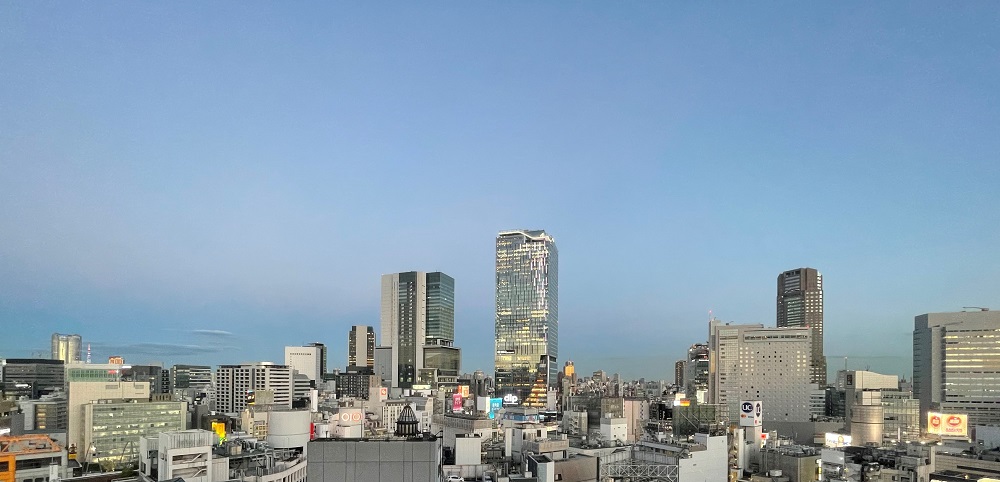 A town of young people, transportation hub, and shopping streets,
Shibuya is in the middle of transformation by a series of large-scale redevelopment projects to heighten its status.

Challenges to solve the fundamental problems of the town
When it came to a cluster of skyscrapers in Japan, it once automatically meant Shinjuku subcenter. However, high-rise buildings have covered the whole area of central Tokyo with a change of the era from Showa thru Reiwa. In particular, the sight of Shibuya, where five high-rise buildings have appeared in succession around the station starting from Shibuya Hikari-e completed in 2012, is remarkable.
Shibuya was a bustling town often mentioned as one of the representative spots of Tokyo, the capital city, even before these buildings were developed, and lately reaching the saturation point from the viewpoint of further development and revitalization of the town. It was because of such condition that certain drastic measures must have been taken and major redevelopment projects around the station were started. What caused the stalemate was the excessive concentration of transport infrastructure on top of the topographic features unique to Shibuya. Now reconfiguration plans both vertical and horizontal are under way concurrently in order to grapple with the congestion problem.

Vertical plane approach
The area around Shibuya station is a level ground in a valley as the name suggests, surrounded by plateaus in the east, west, south, and north. There are a number of tracks for railway lines such as JR, Tokyu, and Tokyo Metro, as well as a bus terminal in such a confined area, while major thoroughfares including Meiji-dori Street, National Highway 246, Metropolitan Expressway No. 3 Shibuya Line, are running thru it. So the area around the station was always overcrowded with passengers and visitors to commercial facilities. Walking paths for passengers to transfer from one railway line to another were so complicated that the station was dishonorably labeled as a "labyrinth".
Upon the plateaus encircling the station, there are various spots scattered. In the past, if you were to go from Shibuya 1-chome on the eastern plateau to Sakuragaoka-cho on the south side, you would have to go down the slope, pass through the crowded and complicated area around the station, then go up and down the pedestrian bridge over National Highway 246, and then go up the slope.
Thus, it was an undeniable fact that necessity to take a perplexing passage due to its unique terrain and intertwined transportation system hindered people from migrating from one spot to another thru the station area and caused a tendency to isolate each other. Though Shibuya is featured as a "town of young people" on TV almost daily, it is not the whole Shibuya area but actually certain sections such as Hachiko Square and the "scramble" intersection in front of the entrance to Center Gai. Such misconception evidences that the scale and diversity of the area is not widely known.
Redevelopment projects currently under way are designed to alleviate the hardship in walking around due to a difference of elevation by providing pedestrian decks between structures surrounding the station. Let's say you are on the fourth floor of Shibuya Hikari-e. You will be able to reach a spot at the same elevation in Dogenzaka on the opposite side of JR Shibuya Station without going up or down via a passage called "Skyway" that crosses above it, after the redevelopment projects are completed.
Even today, thanks to certain improvements already carried out underground, it is possible to walk horizontally from the basement of Shibuya Hikari-e to the exit just below Dogenzaka past the side of ticket gates for Tokyo Metro and Tokyu Toyoko Lines. Likewise, construction work of pedestrian decks and pathways is in active progress on the 2nd and 3rd floor levels to allow for horizontal traverse between the eastern and western sides.
In order to help vertical move between railway tracks scattered on different levels, complexes of escalators and elevators are also being put in place. This universal design infrastructure is called an "Urban Core," and will be installed at six locations lying east and west of Shibuya Station as a key for the smooth flow of people.
As for the access along north-south axis of the station, the plan is in place to realize easy and smooth transit through construction of pedestrian decks, widening pedestrian bridges by 50%, and installation of urban cores at key points.
Overall, problems inherent in Shibuya such as difficulty in going back and forth due to considerable change in elevation and stressfulness of changing trains are to be mitigated largely by constructing multiple layers of high-utility decks and by installing urban cores which organically connect layers and facilitate vertical moves. When all the development projects and infrastructure works of the area are completed, the urban mass larger than before will be born in Shibuya, which spreads out smoothly in all directions with the station as its core.

Horizontal plane approach
Thus revitalization around the station is expected to progress by leaps and bounds, as various infrastructures are developed extensibly. However, rejuvenation of a whole town of Shibuya is being promoted over a broader area.
This is so-called "Greater Shibuya" concept, which envisions the area within a 2.5-kilometre radius around the station as a "Sphere of Shibuya," and promotes migration of people within and explore growth potential of the whole area.
Development of infrastructures is expanding into outer fringes away from the station area as such projects as "Shibuya Stream" which opened in 2018, "Miyashita Park" which opened in 2020, and "Sakuragaoka Exit Area of Shibuya Station" which is scheduled to be completed in 2023, radiate from the station. Like ripples fan out, successive developments will follow in spots on the horizontal plane further afield.
The "Shibuya 2-chome West District Project," which encompasses three blocks east of Shibuya Hikari-e, is scheduled to be completed in the fiscal year of 2029, and is expected to further improve the convenience of the transportation system in Shibuya with incorporation of a depot for intercity bus connecting to airports and regional cities.
In the northwest quadrant from the station, the flagship store of Tokyu Group, Tokyu Department Store Honten, which is located at the gateway to the upscale residential area of Shoto, will be renovated in partnership with a group company of LVMH (scheduled to commence around 2023) according to the announcement in May, 2021.
The Shibuya Ward Civic Center, which was renovated along with the Public Hall in 2019, is already attracting attention as a landmark, together with the eye-catching high-rise condominium, Park Court Shibuya the Tower, next door. In addition, a redevelopment plan of the NHK Broadcasting Center on an adjacent lot is under way, and construction of a new broadcasting center with a total floor area of approximately 271,983 square meters is to commence before long.
After redevelopment projects in the immediate area of the station conclude, the field of activities in Greater Shibuya will broaden to the periphery, then migration programs currently in progress will bear rich fruit.

Shibuya, which used to be known as a town of young people, gains attention lately as a "foothold to nurture and grow enterprises" where entrepreneurs and businesspersons of IT and other startups gather in swarms.
The influx of such people and investment funds has fed energy to rebuild the town, and the appearance of the Shibuya Station area has changed significantly over the past decade or so. Spearheaded by Shibuya Hikari-e completed in 2012, huge complexes have been built one after another even within a limited space in front of the station the last few years including Shibuya Stream, Shibuya Scramble Square, Shibuya Fukuras, and Miyashita Park.
On top of them, large-scale redevelopment projects are now under way simultaneously, such as Sakuragaoka Exit Area of Shibuya Station (slated for completion in 2023), 2-chome 17 Area of Shibuya (slated for completion in 2024), and Central and West Buildings of Shibuya Scramble Square (slated for completion in 2027).
There are also plans to redevelop Dogenzaka 2-chome Minami District and Shibuya 2-chome West District, following Shibuya 1-chome District as a part of public-private joint development series called Urban Renewal Step-up Projects. So Shibuya is only halfway through massive transformation at this point.
As Shibuya continues to develop and its appeal increases, it is because real estate value there is expected to go up further that increasingly more investors both domestic and offshore are paying close attention to this market.
We at Mitsui's Shibuya Office offer an advisory service to clients with regard to investment / business properties in the central and southern parts of Tokyo. And we can provide the best solution to such questions as wealth building through property investments, effective utilization of real assets, and inheritance tax measures by holding a dialogue with clients and taking advantage of not only internal collaboration but also resources within Mitsui Fudosan Group's network. Please do not hesitate to call on us even if your project is not concrete yet but something to anticipate from the medium- to long-term point of view.