Tokyo Shibuya-Ku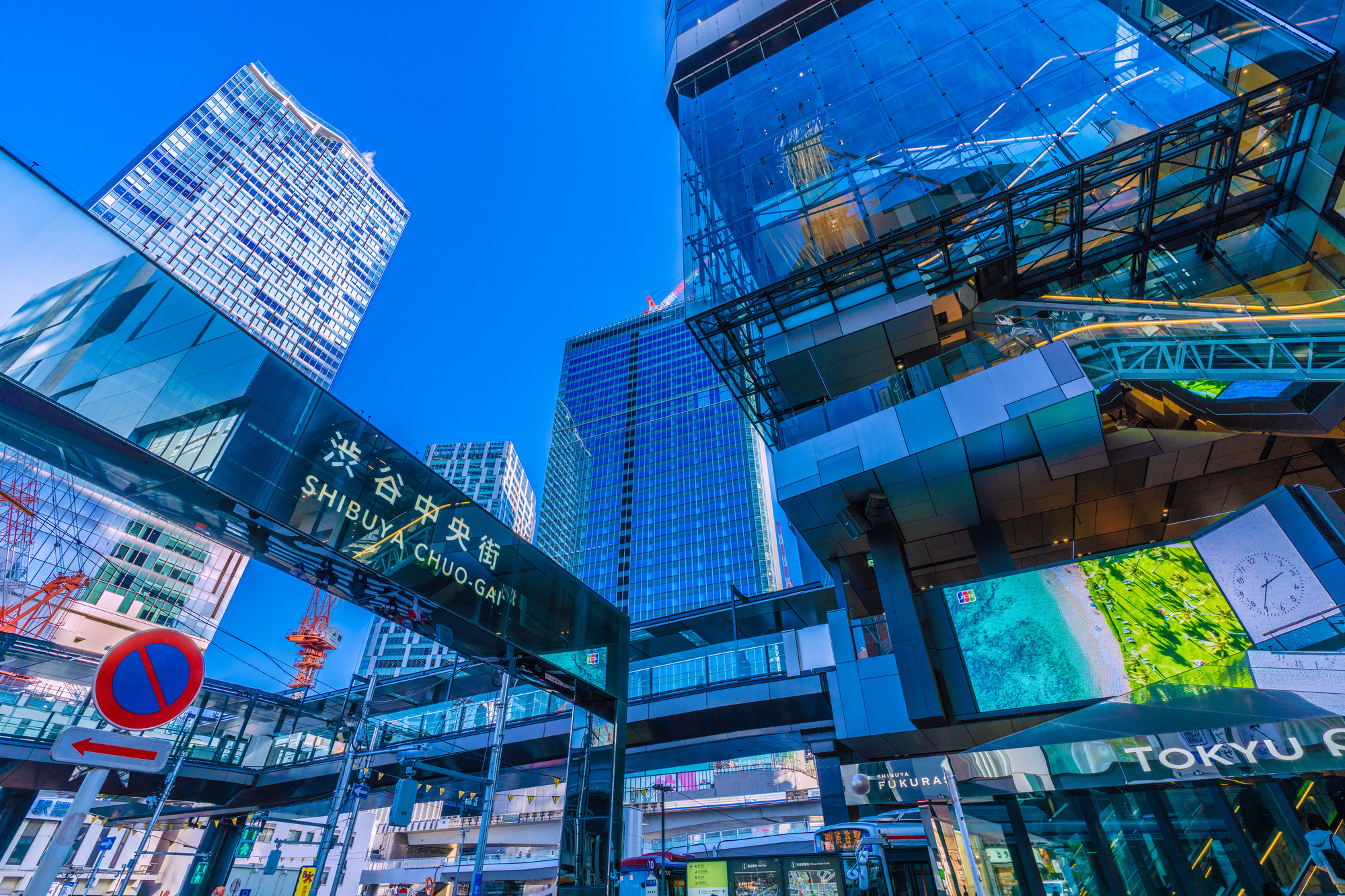 Shibuya, one of three auxiliary city centers, the other two being Shinjuku and Ikebukuro, is an area of vigor and vitality, but retains a cultural atmosphere and elegance. In addition to the well-known and extensive bustling business district around Shibuya Station, Shoto, Shinsen-cho and Hachiyama-cho, about 15 minutes on foot from the station, are the locations of embassies, churches, art galleries, and green spaces, and an artistic atmosphere as an oasis of serenity amid the chaos of the city, making this an exclusive and popular residential district for Japanese people.
Yoyogi-Uehara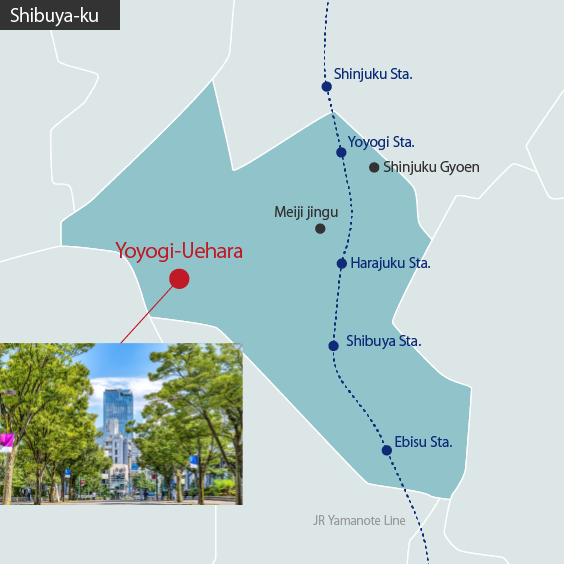 This neighborhood is historical subdivision and has been built up since the Showa era (1926~) thanks to their ideal proximity to the heart of Shibuya. There are now tranquil upscale residential zones on countless streets that converge on Yoyogi-Uehara Station. Walk a short distance to reach Shimokitazawa, the hub of avante-garde culture for young people in Tokyo, where live performances, music and more can be savored. The University of Tokyo's College of Arts and Science and other such facilities lie across from Kyu-Yamanote-dori and numerous educational institutions also dot the surrounding area.
Daikanyama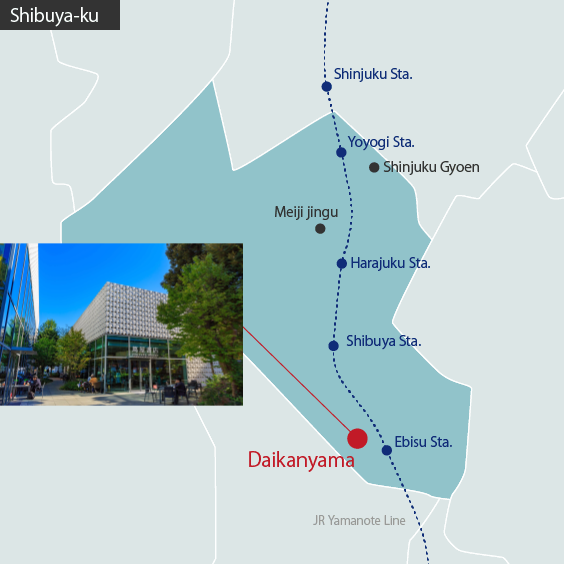 The Daikanyama district is centered on an area that extends from the intersection in front of the police box on the corner of Hachiman-dori and Kyu-Yamanote-dori in an east-west line to around the Namiki Bridge and in a north-south line to Tamagawa-dori (National Route 246). In contrast to such nearby districts as Shibuya and Ebisu, Daikanyama projects the striking image of a place that lingers in refinement. The ambience of the streetscape here also harnesses local geographical advantages that combine with a casual interspersion of a broad array of businesses ranging from dignified cafes, restaurants and other dining establishments to general stores and other such outlets to provide an irresistible draw for everyone from fashion-conscious young people to middle-aged adults.
Ebisu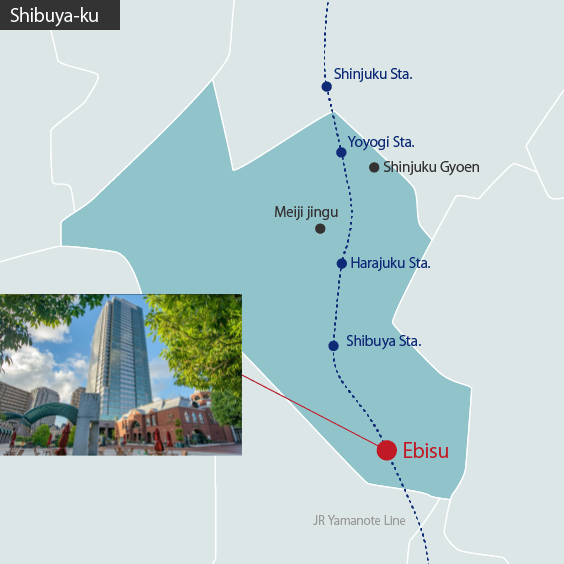 Conveniently located adjacent to Shibuya, Ebisu isn't simply an area of office buildings housing the headquarters of Sapporo Breweries and many other companies but also an area with cultural facilities, including Ebisu Garden Place—a local landmark comprised of a complex where visitors can enjoy events, gourmet offerings, shopping, films and more—and the Tokyo Metropolitan Museum of Photography. Numerous restaurants, general stores, boutiques and other refined shops and establishments that have faithfully retained a meaningful connection to their past occupy the Ebisu Shopping District and along Komazawa-dori. The Japan Beer Brewery Company (present Sapporo Breweries Limited), which was founded in 1887, began producing Yebisu Beer in this district and the name was adopted for the station and the district itself.
Hiroo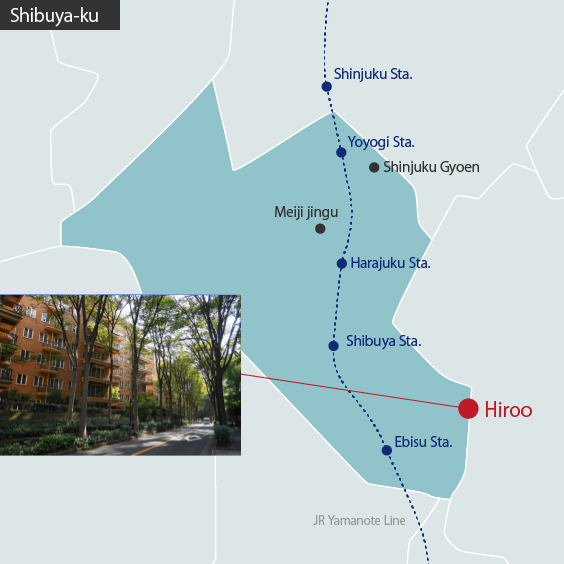 Foreign nationals from a wide array of countries can be seen savoring their meals in local restaurants, which can perhaps be explained by the fact that there are so many embassies situated nearby. With many prominent schools in the area, including the University of the Sacred Heart and the presence of valued public facilities, such as the Red Cross Hospital that takes up more than half the space comprising Hiroo 4-chome, Hiroo is highly popular as a quiet, upscale residential environment where people can feel comfortable and secure. Blessed with plenty of facilities imbued with lush greenery, the character of this town is defined in part by the blending of various cultures from around the world.