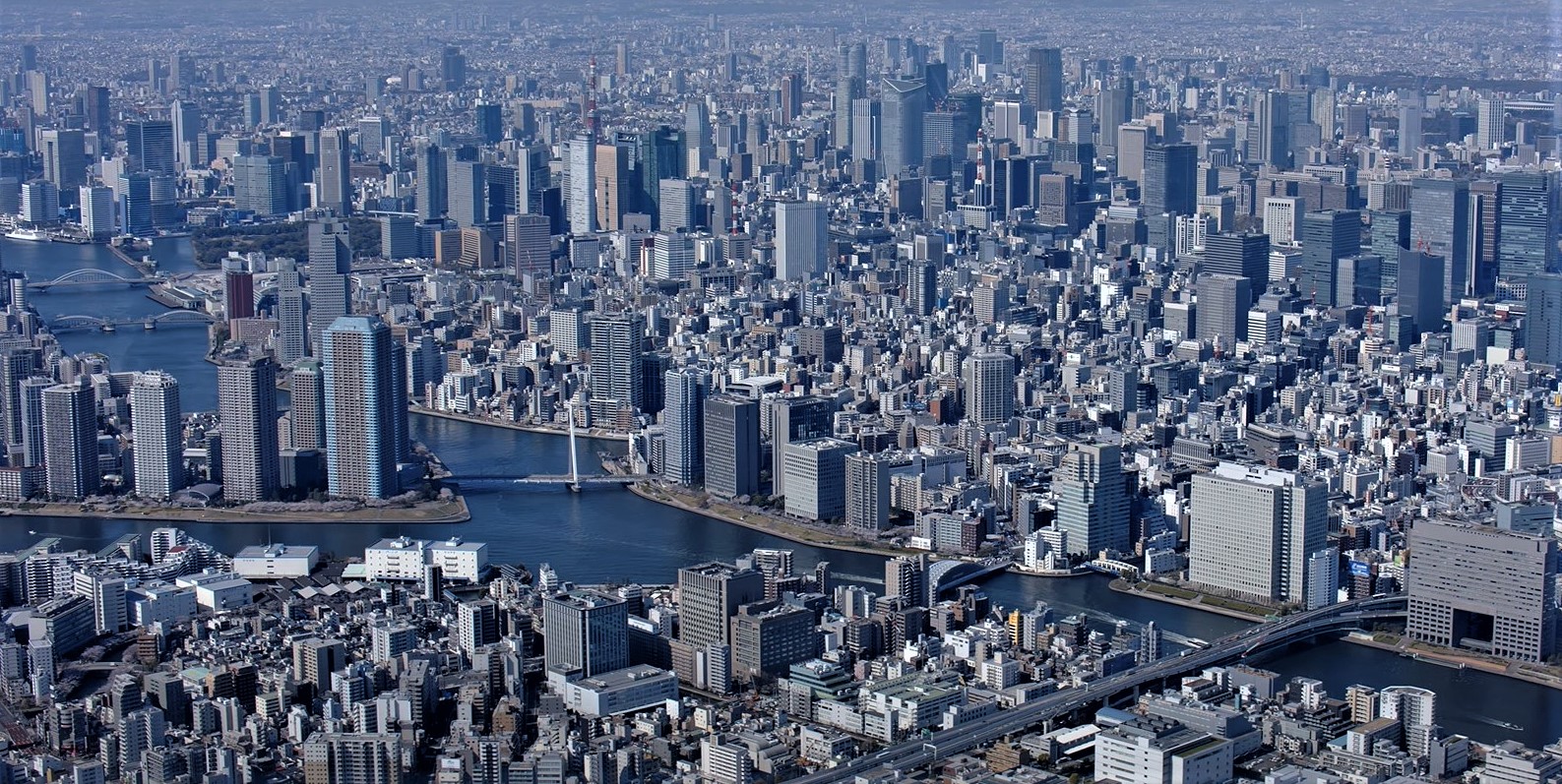 PROPERTY MARKET TRENDS | 1Q 2022
Residential: Demand for high-end rentals grew, and new condo. sales remained steady.
Office: Vacancy rates were improving in Tokyo and regional cities.
Department Stores and SC's: Consumer demand was coming back strongly as COVID-19 waned.

TEXT: Yoko Fujinami, ib Research & Consulting Inc.
Toru Kawana, Industrial Marketing Consultants Co., Ltd.

Residential
New condo. sales in Tokyo metropolitan area remained steady.
While outlook for second-hand condo. sales turned unclear due to surging prices, high-end rental properties were in high demand.
■New condo. sales in Tokyo metropolitan area
・Average initial sales price, floor area and unit price in May 2022 were JPY 60.88 million, 67.09 sqm, and JPY 2.994 million per tsubo, respectively. The month-end inventory was 5,346 units, while contract rate in the first month of sales stood firmly at around 70%. So size of the market was pretty stable. There are some projects, however, that have been experiencing construction delays due to such factors as rising land prices and construction costs, and shortages in construction materials.
■New cond. sales in Kinki region
・Average initial sales price, floor area and unit price in May 2022 were JPY 48.53 million, 60.61 sqm, JPY 2.642 million per tsubo, respectively. The month-end inventory was 3,609 units, while contract rate in the first month of sales stood firmly at around 70%. Now that the average price has gone over and beyond JPY 40 miilion, there is a concern about future sales performance.
■Second-hand condo. sales in Tokyo metropolitan area
・There were only 2,877 contracts made in May 2022 (down 12.7% YoY), partly due to a gradual decrease in inventories and a contraction from the elevated level of transaction volumes during the first half of 2021.Average age of units sold was 23.26 years. Their average price and unit price both rose to JPY 41.74 million (up 9.5% YoY) and JPY 656.1 K per sqm (up 12.0% YoY), respectively. The number of units in inventory and newly listed were 37,039 and 13,527, respectively.
・As prices of new condo. units soared, prices of second-hand condo. units also kept going up so far. Now some properties are priced so high that the number of unsold units in inventory is trending up.
■Market overview
・Because of COVID-19, high-end for-rent condo units originally targeted for expats in central Tokyo have been redirected to domestic market and leased to wealthy Japanese individuals.Now demand from expats is reviving with the recent relaxation of resrictions on entry into Japan, but there is a shortage of properties available for them to rent.            
・It is found that a desire for upscale, expansive and safe dwelling units within high-security, well-managed buildings in central locations is strong among high-income households who for some reason or other do not have to accumulate domestic assets, and boosts the demand for high-end for rent condo. units.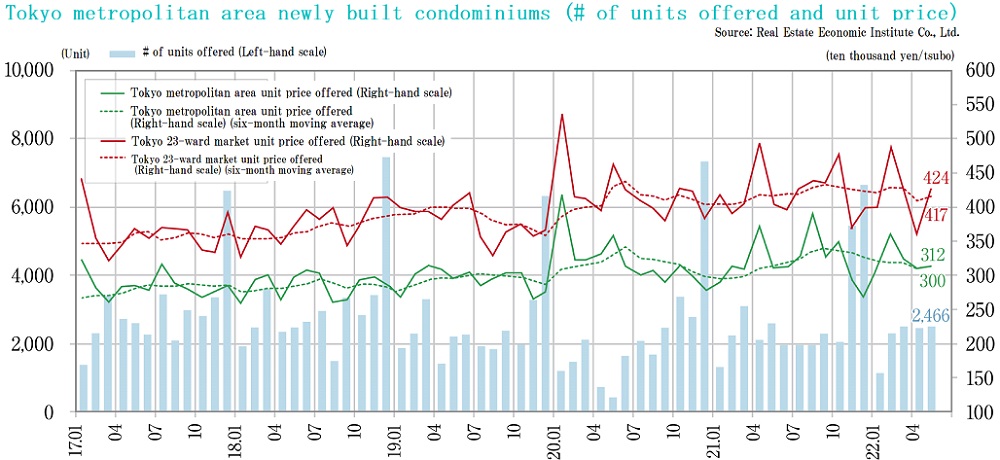 Data: As for new supply = Real Estate Economic Institute Co., Ltd., and as for secondary market = Real Estate Information Network for East Japan
Office
Measures to reconfigure office spaces are definitely called for to deal flexibly with a change to hybrid working, a combination of traditional commute-to-work and work-from-home modes.
■Large-scale office buildings in Tokyo CBD (Central 5 Wards)
・As of May 2022, there was little monthly change, minus 0 01 ppt, in the vacancy rate to 6.37%.
・Average rent declined for 22 consecutive months to JPY 20,319 per tsubo as of May 2022, down 0.04 ppt MoM or down 4.38 ppt YoY, respectively.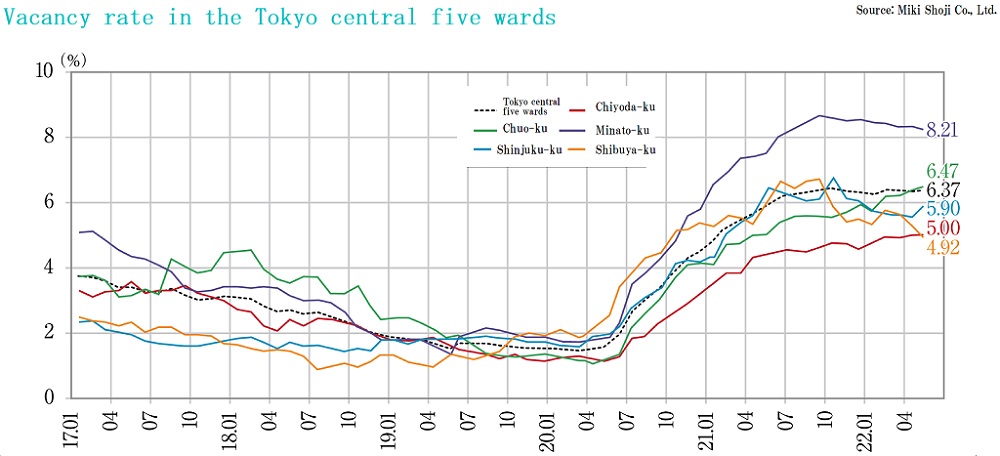 ■Vacancy rates, average rents in major regional cities / May 2022
・Sapporo: Vacany @2.29%, down by 0.13 ppt MoM. Average rent up by JPY 21 MoM (Vacancy rate and average rent both improved.)
・Sendai: Vacancy @5.02%, down 0.24 ppt MoM. Average rent down by JPY 9 MoM. (Vacancy rate improved, while average rent slightly deteriorated.)
・Yokohama: Vacancy @5.5%, up by 0.75 ppt MoM. Average rent up by JPY 26 MoM. (Vacancy rate deteriorated, while average rent improved)
・Nagoya: Vacancy @5.93%, down by 0.13 ppt MoM. Average rent up by JPY 21 MoM. (Vacancy rate and average rent both improved)
・Osaka: Vacancy @4.99%, down by 0.19 ppt. Agverage rent up by JPY 13 MoM. (Vacancy rate and average rent both improved)
・Fukuoka: Vacancy @5.03%, up by 0.06 ppt MoM. Average rent up by JPY 20 MoM. (Vacancy rate slightly deteriorated, while average rent improved)
Overall vacancy rates and average rents are both on an improving trend.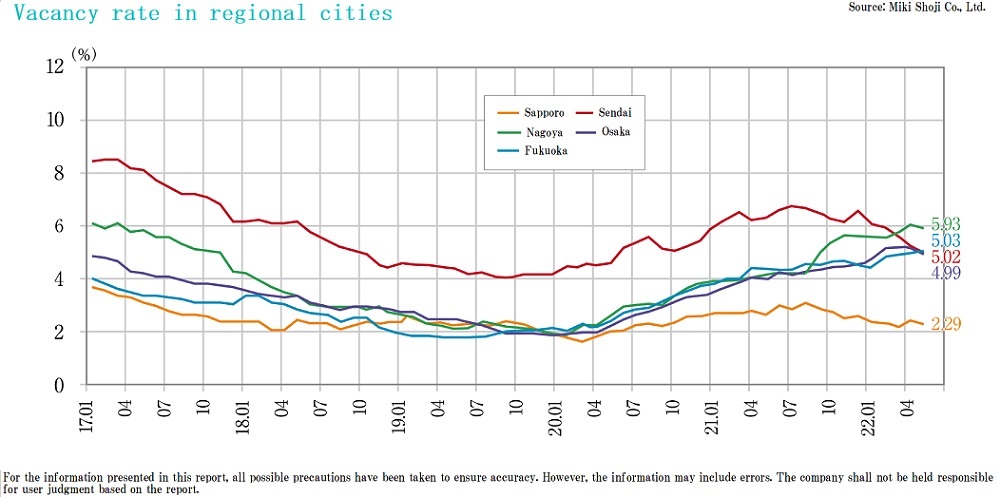 ■Future market outlook
・Once a large number of companies adopted a work-from-home mode of working due to COVID-19. Now there are an increasing number of cases where they are either reverting to a commute-to-work mode or turning to a hybrid of commute-to-work and work-from-home modes.This phenomenon may somehow ease a concern that demand for office space will shrink,but could not be a decisive factor to revive the office demand dramatically.
・It will be important to provide comfort and enhance creativity in flexible workspace coupled with conference rooms and a supply room by making good use of an excess space underutilized inevitably. This will in turn enhance corporate vitality and operating effectiveness, and contribute to the acquisition of high-quality human resources.
Hospitality
While expectations are high for the recovery of demand in general after COVID-19, there is a pressing need to discover new customer demands for business hotels by carrying out a business conversion.
■Statistics by Japan Tourism Agency and high demand from inbound tourists
・In April 2022, the total number of overnight guests was 33.63 million, of which 531,000 were by foreigners. It was growing since March, when the number of COVID-19 infections was on a downward trend.A subsidy program, commonly known as "National Travel Support," is scheduled to start, and it is expected that the monthly average number of overnight guests will before long recover the level of about 50 million in 2019.
・Japan is highly popular as a country where foreigners want to go sightseeing. According to the survey titled "Countries and Regions to Visit after the COVID-19 Pandemic Abates" conducted jointly by the Development Bank of Japan and the Japan Travel Bureau Foundation, Japan is the top choice of respondents in Asia and the second most popular choice after the United States of those in Europe, the United States and Australia.
■Recent trend in business hotels
・Business hotels occupy the largest share of the market, and the number of overnight guests in that category once stood at 23.1 million in March 2019.After the number went down to 13.73 million (roughly 50% of a year earlier) in March 2020, it recovered to 17.24 million in March 2022 (or up 18% YoY). Because of proliferation of "work-from-home" and a decrease in business trips, however, the number of overnight guests is still depressed. There is a pressing need to carry out a business conversion from hotels specializing in lodging.
■Future market outlook
・A number of international premium brand hotels are making inroads into Japan one after another, betting on an early recovery in inbound demand.Slated for opening are Dusit Thani Kyoto, Bvlgari Hotel Tokyo, Tokyo Edition Ginza and The Ritz-Carlton Fukuoka during 2022 and 2023, JW Marriott Hotel Tokyo in 2025, and Waldorf Astoria Tokyo Nihonbashi in 2026.Now Japan market has become the center of attention for the world's leading hotel brands.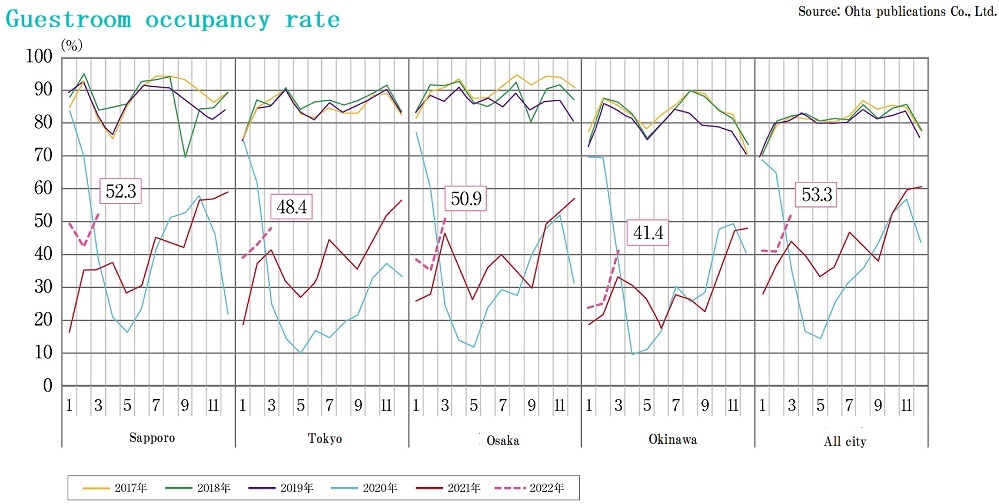 Commercial
Effective sales schemes and attentions to customers need to be established under today's adverse circumstances such as depreciation of the yen and rising prices.
■Sales volume and status quo of shopping centers
・Existing store sales for shopping centers (overall) exceeded the previous years results for three months in a row, and reached approximately JPY 478.2 billion in May 2022 (up 29.9% YoY).This growth in sales is due to an increase in both customer traffic and the number of shopping centers resuming to normal hours of operation responding to the relaxation of restrictions on movements across the nation.
・Despite stock shortages in clothing due to the lockdown in Shanghai, China, sales of summer clothes increased uninterruptedly. Amusement arcades and movie theaters were doing well. And sales of souvenirs were also strong as both homecoming and sightseeing trips increased. Consumption recovery has been quick and evident.
■Future market outlook
・Commercial properties are expected to benefit greatly from a revival of inbound demand following the readmission of foreign tourists coupled with depreciation of the yen, which, however, pushes up costs of imports and raw materials. Together with war in Ukraine, the situation cannot be taken lightly.
・As there are reports of an increase in both commodity prices and household income such as bonuses, full-scale consumption growth will be in sight. Department stores and shopping centers need to establish effective sales schemes and atttentions to customers who are about to return, and develop a sales manner that does not rely on such impulse buying as in the inbound tourist boom.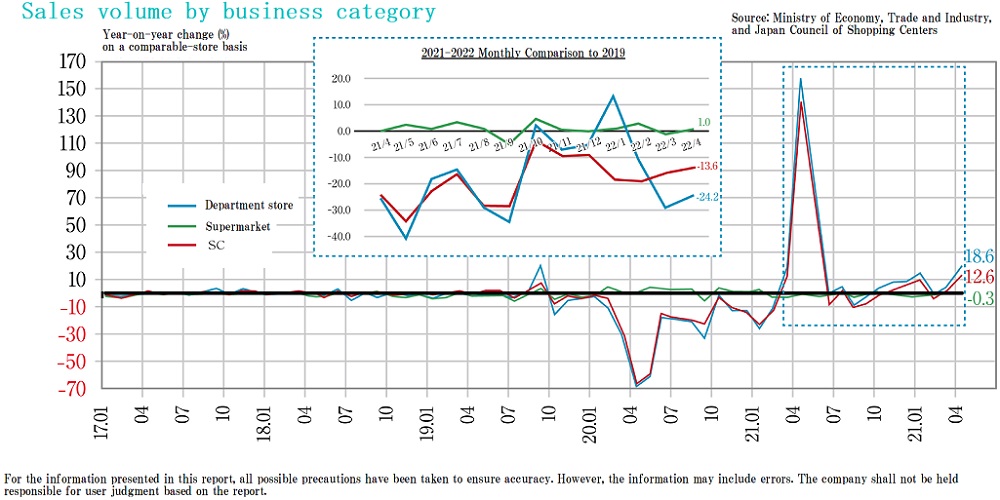 Logistics
Demand is steady In Tokyo metropolitan area, while a supply-demand situation is still tight in Kinki and Fukuoka regions.
Growing e-commerce business will expand the market further.
■Market condition in Tokyo metropolitan area
・Vacancy rate for large multi-tenant logistics (LMT) was 4.4% in 1Q FY2022.Despite a large supply of 260,000 tsubo, robust demand mitigated an increase in vacancy rate.Going forward, there is a concern for impact from the completion of several large-scale properties. But demand remains firm, and vacancy rate is expected to stay within a mid 2% range.
・Effective average rent was JPY 4,520 per tsubo.The average rent was pushed up by addition of several buildings completed in high-rent urban areas.
・As far as vacancy rates are concernd, only Tokyo Gaikan Expressway Area saw a decline (down 1.5 ppt QoQ) to 0.9%. In all other areas, i.e. Tokyo By Area, National Route 16 Area and Metropolitan Inter-City Expressway Area, vacancy rates went up due to new supply.
■Market condition in other regions in 1Q
・In Kinki region, vacancy rate was 2.1% and effective rent was JPY 4,110 per tsubo. The market softened because of a new supply, but a vigorous demand is expected to pull the vacancy rate down.
・In Chubu region, vacancy rate was 4.6% and effective rent was JPY 3,590 per tsubo. The market was stabilized without a new supply.
・In the Fukuoka region, vacancy rate remained at 0.0% since 2Q FY2019, and effective rent was JPY 3,260 per tsubo. There was an upward pressure on rents because of a tight market condition.
■Future market outlook
・The logistics market took a favorable turn as e-commerce volume swelled due to resrictions on movements following in the wake of COVID-19, and movements of goods continued to increase even after mitigation of the threat of COVID-19 and relaxation of restrictions on movements since Spring 2022. It is considered to have a lot of stability and room for growth.
・Various issues in the economies at home and abroad, such as holdup of goods caused by the Russian invasion of Ukraine, a steep rise in the price of fossil fuels, and rapid depreciation of the yen due to monetary policy of the United States, can hinder movements of goods. Therefore, the stability and flexibility of operations will be increasingly regarded as important from now on.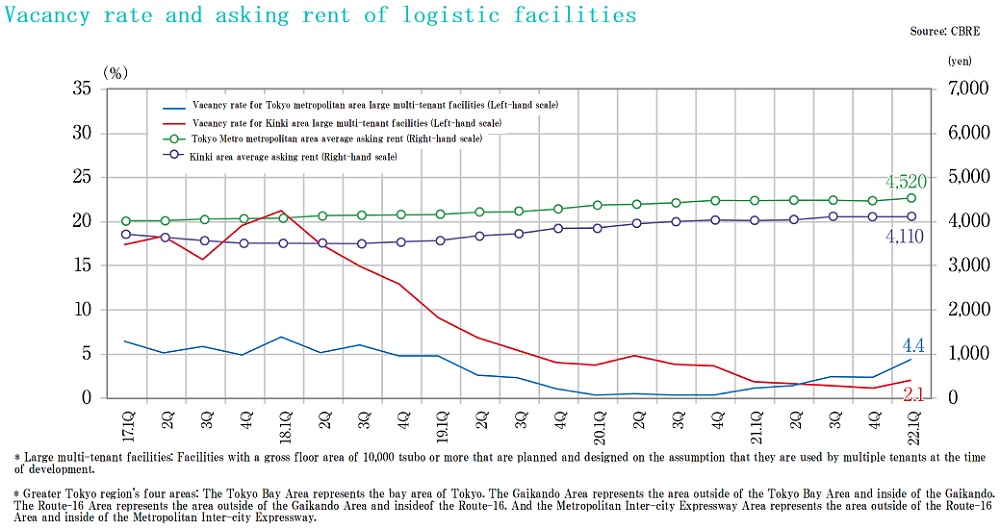 J-Reit
Investment programs in Japanese properties have been implemented steadily despite an uncertain outlook for the global economy.
■J-Reit market trend
・As of the end of March 2022, the Tokyo Stock Exchange Reit Index closed at 2,003.04, down 3.1% from the end of 2021, while the aggregate market capitalization of J-Reit's also declined 2.2% to JPY 16.618.4 trillion at the same time.
・The Tokyo Stock Exchange Reit Index showed a sharp decline of 11.6% in the first three weeks of the new year as a shift in monetary policy and prompt interest rate hikes were suggested by the United States, preventive measures against the highly-infectious omicron strain were declared in some regions, and deterioration in the supply-demand balance of investment units was temporarily apprehended due to a series of announcements about public offerings of J-Reit's. And the index was held down within the range of 1,900 until the middle of March due to uncertainty swollen over the future of the world by the Russia's invasion of Ukraine in February.
・10 public offerings were announced from January thru March 2022, including office, logistics, and residential J-Reit's. And the total AUM grew by JPY 299.4 billion from the end of 2021 to reach JPY 21.5426 trillion.
・There were an increasing number of cases where investment units were repurchased using the funds on hand, especially for office J-Reit's whose investment unit prices were depressed due to a deteriorated condition in leasing market.The purpose is to boost distribution and the price of investment units, which will in turn lead to future external growth again.
■Future market outlook
・Restructuring of J-Reit's by foreign investment funds is in progress.The sponsorship of Oedo Onsen Reit was changed from Bain Capital to Lone Star Group, and the sponsorship of Japan Metropolitan Fund and Industrial & Infrastructure Fund was changed from Mitsubishi Corporation / UBS to KKR, a U.S. fund.The move to acquire not only Japanese properties but also asset managers of J-Reit's taking advantage of weak yen and low interest rate is supposedly intended for a long-term management of Japanese real estate assets.