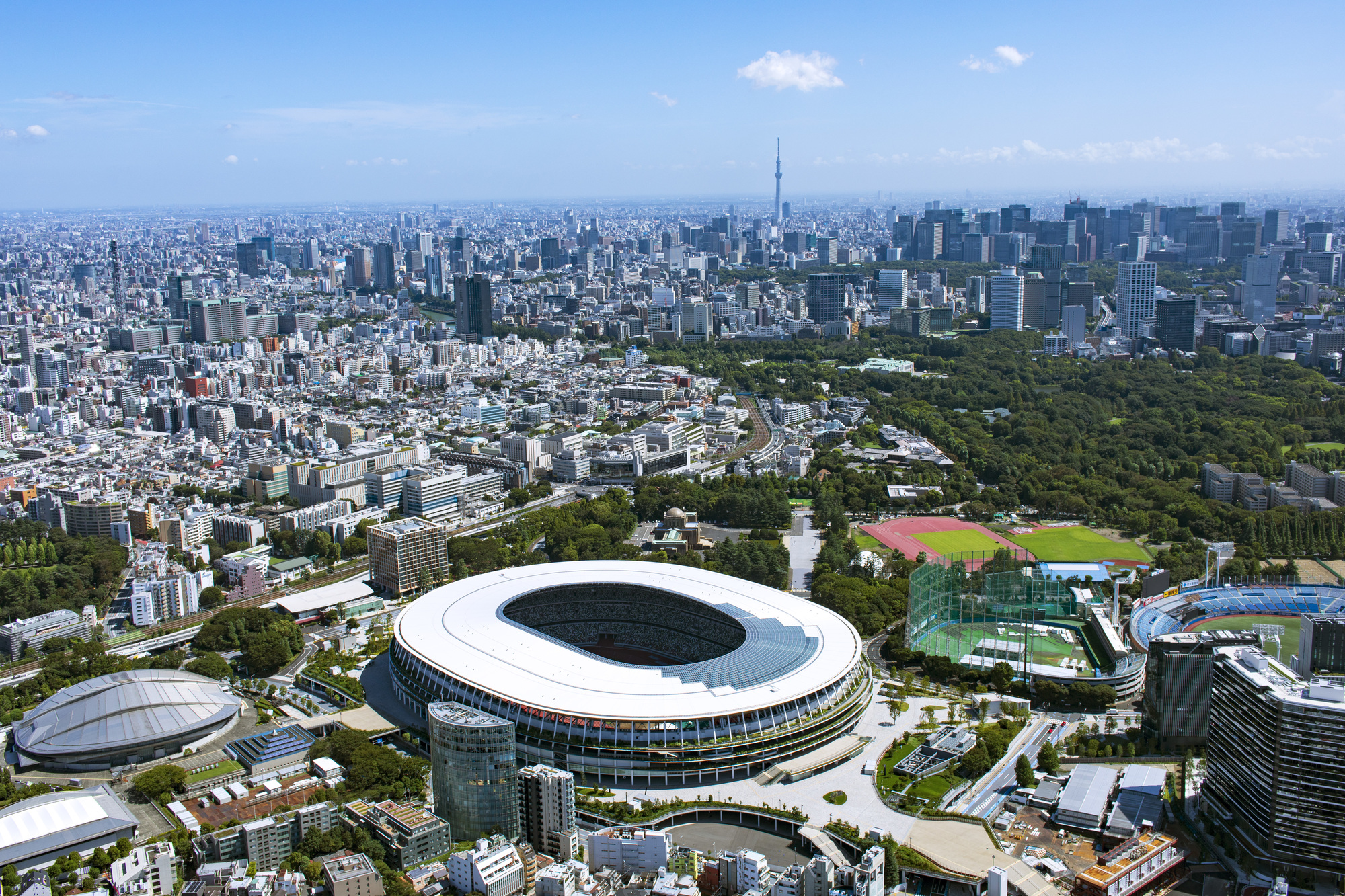 Opportunity for a post-coronavirus recovery is sought after in property market.
PROPERTY MARKET TRENDS | 1Q 2021
The residential and logistics markets have held up well despite the impact of the coronavirus disaster, while it is necessary to adopt measures to suit new needs and boost demand in the office and hotel markets.

New demand is stimulated due to the coronavirus disaster in the residential market. The logistics market is booming, though certain problems are looming. The commercial market is still in a sluggish state and needs urgent business transformation. And the big recovery is pending for the hospitality market. Measures to be taken in each market to deal with the time for a change, the "new normal," are discussed here.
TEXT: Yoko Fujinami, IBRC Inc.
Toru Kawana, Industrial Marketing Consultants Co., Ltd.
J-REIT
The residential and logistics markets have held up well despite the impact of the coronavirus disaster, while it is necessary to adopt measures to suit new needs and boost demand in the office and hotel markets.
At the end of March, 2021, the Tokyo Stock Exchange REIT Index was 2,013.08, up 12.8% from the end of 2020, and the total market capitalization of REITs was 16,348.4 billion yen, up 13.6%. Despite the outbreak and the re-proclamation of a state of emergency at the beginning of the year, the recovery in investment unit prices was driven by expectations for economic recovery due to vaccination, increased momentum for hosting the Olympic Games, and reduced risk of rising interest rates due to continued monetary easing by the Bank of Japan. As a result, investment unit prices have largely recovered to the pre-coronavirus level at the end of February 2020.
Total assets under management for REITs totaled 20,646.2 billion yen, an increase of 360 billion yen from the end of 2020. The AUM of office buildings and logistics facilities increased as a result of such events as the acquisition of Shinjuku Mitsui Building (valued at ¥ 170. 0 billion), the biggest single asset among all J-Reits by Nippon Building Fund, the largest REIT managed by Mitsui Fudosan, and the successive public offerings by logistics REITs such as Nippon ProLogis REIT.
In March 2021, Japan Retail Fund Investment Corporation, a commercial J-Reit, and MCUBS MidCity Investment Corporation, an office J-Reit, both of which are under the same sponsor, merged and restarted as a comprehensive REIT under the new name as Japan Metropolitan Fund Investment Corporation with assets of ¥ 1, 168.1 billion.
The results of REITs continued to be impacted by the coronavirus pandemic and were mixed depending on the investment category. Demand for logistics facilities, residential, and suburban commercial facilities was strong, while rental reduction and exemption for hotels and urban commercial facilities continued through the re-proclamation of a state of emergency. Demand for offices has declined, especially in large-scale properties with high rent per unit, and a descent of occupancy rates and protraction of vacancy / free rent periods have been observed.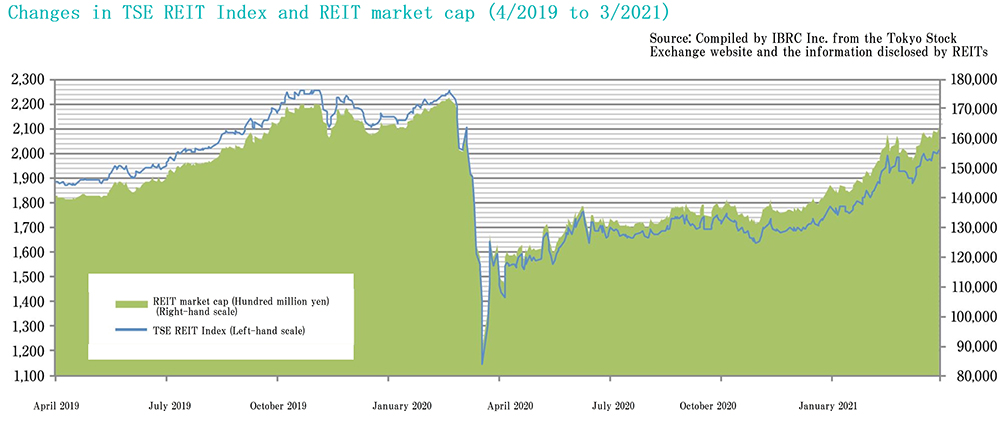 Office
Along with the economic recovery, large-scale redevelopment projects in the city center are popular, and the market is expected to see a V-shaped recovery.
The workplace attendance rate after the end of the pandemic is forecasted at about 80% of the pre-coronavirus level..
In the last three months, vacancy rate for large-scale office buildings in Tokyo Business District (Central 5 wards of Tokyo) was 5.42% in March (+0.18 pt. MoM), 5.65% in April (+0.23 pt. MoM), and 5.90% in May (+0.25 pt. MoM), marking the monthly increase in the average vacancy rate for 15 months in a row. Average rent decreased for 10 months in a row, and it was 21,249 yen per tsubo in May, down 6.95% YoY (-1,587 yen) and down 0.78% MoM (-166 yen).
May vacancy rates in regional cities in general hit the bottom. They were 2.63% (-0.15 pt. MoM, recovery) in Sapporo, 6.33% (+0.06 pt. MoM, deterioration) in Sendai, 3.63% (+0.08 pt. MoM, deterioration) in Yokohama, 4.04% (no change, flat) in Nagoya, 3.99% (-0.02 pt. MoM, recovery) in Osaka, and 4.41% (-0.06 pt. MoM, recovery) in Fukuoka.
The reason for the deterioration of occupancy in Tokyo Business District is said to be an increase in the number of companies reviewing their space needs, seeing a surplus of office space due to an increase in the number of "teleworkers" as a result of such measures as social distancing, restriction on attendance, and promotion of working from home under the state of emergency declared repeatedly.
In particular, a big impact came from large IT-related companies and their affiliates, which have moved into smart buildings in Shibuya and Roppongi to secure workers and promoted "ease of work," are shifting now to telecommuting and reconsidering their office space needs.
While the office data are collected mainly from large-scale office buildings, small and medium-sized buildings in downtown areas are generally more vulnerable to the economic condition and assumed to have higher vacancy rates than large-scale offices now because they have many tenants in such sectors that have been most affected by COVID-19 as restaurant and tourism. Owners of those small and medium-sized buildings may have to keep weathering through a difficult time.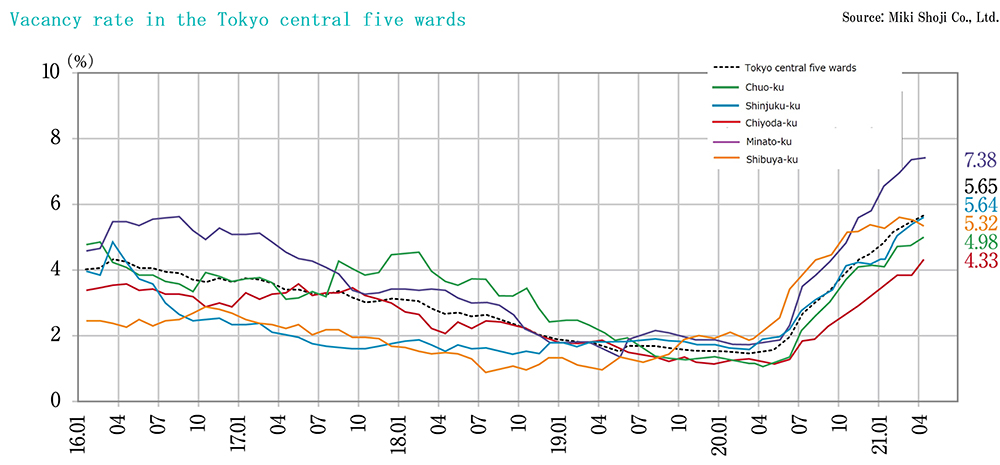 Overall market condition for office buildings remain difficult as of June, 2021, and landlords are struggling to secure tenants. At the same time, however, vaccination against COVID-19 has been proceeding rapidly, and economic activity is expected to resume to a level on a par with Europe and the United States shortly.
Counts of commuter train users and pedestrians in downtown areas are increasing regardless of the day of a week these days. Since it is used to be a matter of everyday life for urban workers, mainly service industry workers, to work and shop in the downtown area rather than working remotely from home, they must prefer commuting to work in the office at the bottom of their heart.
Though it is said that many companies will promote telecommuting even after the coronavirus is eradicated, attendance rate of corporate employees at large is expected to return up to about 80% because of the mindset of urban workers described above. If so, there is a possibility new demand for office space may exceed the loss during the pandemic since we can expect a quick recovery of the economy back to pre-pandemic level. From 2022 onwards, there will be a number of large and attractive office development projects coming on line, such as those around Tokyo Station, Takanawa Gateway Station and Toranomon Tower.
As vacancy rate rises and rents are expected to fall due to coronavirus, the situation will continue to be difficult for developers who "have to fill buildings with tenants now that development projects are under way." On the other hand, from a tenant's point of view, falling rents means increasing possibility that it can afford to move into a high-grade intelligent building. As more companies move into quality offices at lower rents, the market will recover and lower vacancy rates and higher rent levels will follow. From such perspective, a V-shaped recovery in the post-coronavirus office market is highly likely, and the key to success lies in the timely implementation of measures to control the coronavirus. There seems to be light at the end of the tunnel.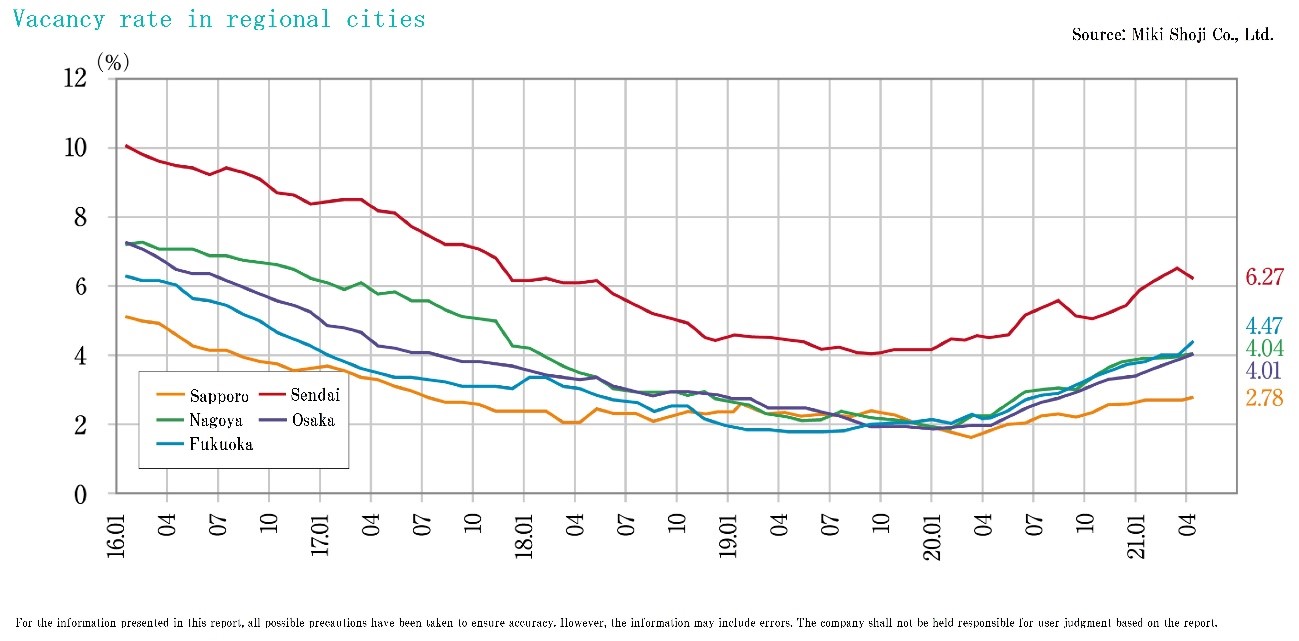 Hospitality
The development of needs to adapt to the new business style is a pressing matter after coronavirus. The key to market recovery is immediate measures against the coronavirus, including vaccinations, and resumption of GoTo campaigns.
According to the Japan Tourism Agency's Survey on the Total Number of Overnight Guests and the Total Number of Foreigner Overnight Guests, the total number of domestic overnight stays in April 2021 was 23.96 million, of which 242,000 were by foreigners, and in terms of accommodation types the largest share was held by business hotels at 14.02 million. One year ago (April 2020), the number of overnight stays was 9.7 million, of which 202,000 were by foreigners and 6.62 million were held by business hotels. So there is an improvement from year ago. Yet it is still a far cry from a full recovery compared to 42.5 million overnight stays in April 2019 before the impact of coronavirus disaster, including 8.879 million overnight stays by foreigners and 18.96 million overnight stays in business hotels.
The room occupancy rate in April 2021 as announced by the Japan Tourism Agency (comparison with April 2018) remained discouraging still. They are 18.1% (30.3%) at ryokan, 23.9% (42.4%) at resort hotels, 43.3% (68.0%) at business hotels, 30.3% (69.4%) at city hotels, 12.5% (28.3%) at no-frills lodging houses, and 15.4% (31.3%) at others. Occupancy rates in major regions in February 2021, as announced by Ohta Publications Co., Ltd., are also depressed at 36.2% in Sapporo, 39.1% in Tokyo, 27.5% in Osaka and 21.6% in Okinawa. Then, further decreases in the occupancy rate are foreseen in the following months as the Semi-emergency Coronavirus Spread Prevention Measures and State of Emergency are declared one after another in various regions. With almost no foreign tourist coming in and domestic travel still restricted, the market recovery is hardly expected for the time being. Vaccination is being undergone rapidly across Japan, now.
Once it is complete and the risk of infection is reduced, economic revitalization measures such as "GoTo Travel" will be introduced again. Hopefully the government takes flexible and prompt economic recovery measures in line with the improvement of the situation. On the other hand, there is a concern whether business hotels, the largest category in the hospitality industry, will be able to come back to their pre-coronavirus situation. Demand for this category comes mainly from domestic business trips by Japanese businesspersons. Teleconferencing, etc., which has been widely used as a countermeasure against the coronavirus, will become a standard practice in the post-corona world, then the demand for business hotels within Japan will surely slide. So the big question is to what extent demand can be recovered. Strategies to escape from this severe phase of sifting are necessary such as changing and / or uncovering needs for hotels from just accommodation to something helpful to work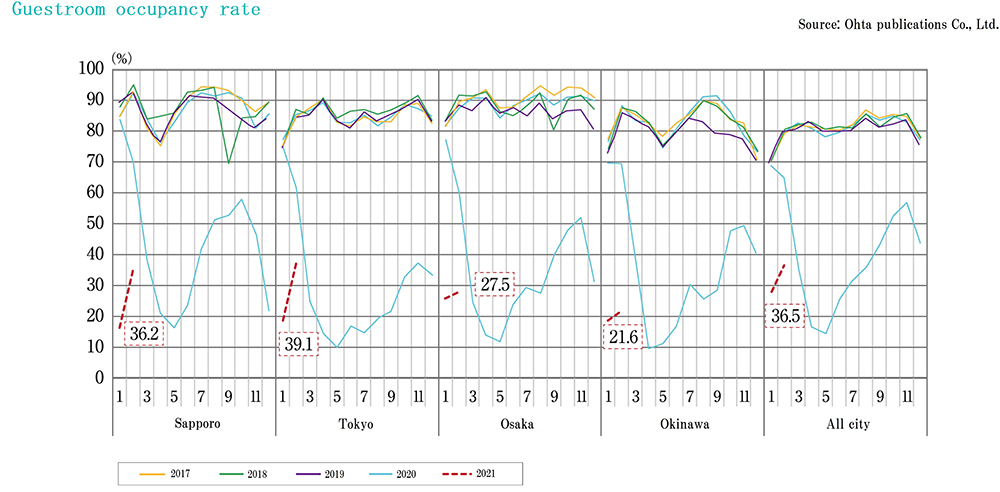 Commercial
The impact from the restricted consumer activities due to the declaration of the state of emergency in response to the coronavirus woes lingers. Growing number of retailers are converting to mall developers.
According to Japan Council of Shopping Centers, existing store sales for shopping centers (overall) in February was approximately 372.8 billion yen (minus 1.34% YoY), recovering to the level in December before the state of emergency was declared. In March and April 2020, a large number of stores were closed due to the declaration of the first state of emergency, which led to a sharp decline in sales. Sales in March and April 2021 rebounded as a reaction with a significant YoY increase of 12.5% in March and 141.2% in April. However, the situation is still tough as these sales figures were far below the pre-coronavirus level two years ago. Business performance in May and June is expected to deteriorate due to the declaration of the Semi-emergency Coronavirus Spread Prevention Measures and State of Emergency in effect. Improvement is anticipated after the summer as vaccine take-up increase, but it will take longer for customer traffic to return.
Shopping center industry in Japan has been struggling, even before and regardless of the coronavirus disaster. The slump is said to be mainly caused by thriving e-commerce, and the overall decline in the performance of department stores and shopping centers is also attributed especially to the lost sales of women's apparel. Department stores and shopping centers are forced to review their business model, and increasing number of them are undergoing reorganization such as closing existing stores and opening new types of business.
A typical example in recent years is Seven & I Holdings' Ito-Yokado. They are shifting a main line of stores by gradually closing those with directly operated shops with a few tenants to "ARIO" type shopping centers, which consists of a "mall" with tenants mainly specializing in fashion and gourmet restaurants and directly operated shops. This way they become the "landlord of Ario" and achieve a "transformation" to a so-called developer business, where they can earn income from real estate and from directly managed stores. This method has also been widely adopted by Mitsui Fudosan Group and AEON Mall. The reason why they choose this method is largely due to the change in customers' consumption behavior.
Department stores and shopping centers in regional cities, which have been cherished by local people for a long time, are being shut down one after another in recent years. In most cases, they do not have enough parking capacity while being located in front of stations, and compare unfavorably in terms of drawing power with suburban large boxes which have ample parking spaces while being located far from main streets. From the viewpoint of businessmen, it is the right choice to prioritize the development of stores with a high potential to attract people over preservation of old establishments with loyal customers. The list is expected to grow in the future.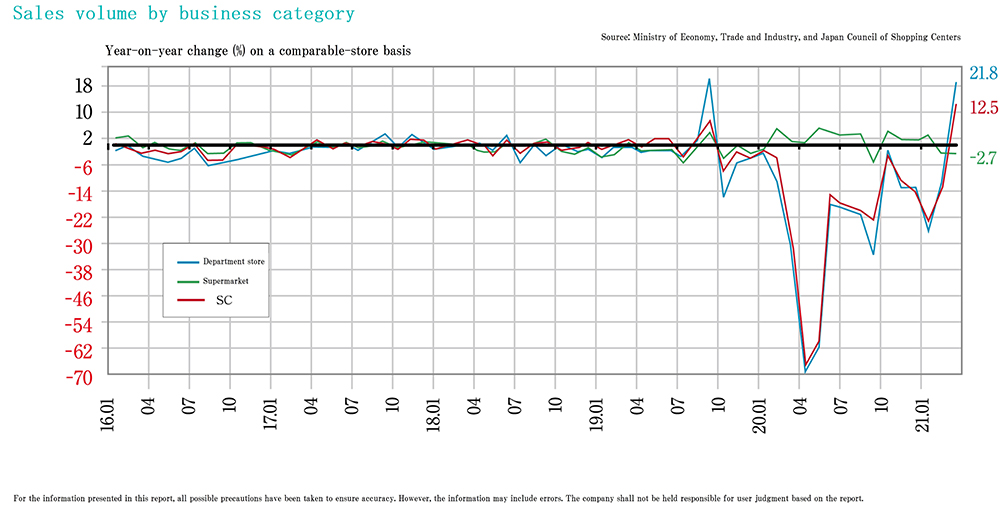 Logistics
In the logistics market, demand is driven by e-commerce and keeps exceeding supply significantly.Securing human resources has emerged as a critical issue behind the scenes as number of new developments grows.
According to CBRE, vacancy rates of large multi-tenant logistics facilities (LMT) in the greater Tokyo region again hit a record low of 0.5% in the third quarter (July-September) of 2020, and effective rent was 4,420 yen/tsubo. In the fourth quarter (October-December), vacancy rate was 0.5%, and effective rent rose to 4,460 yen/tsubo. In the first quarter (January-March) of 2021, vacancy rate was 1.1% and effective rent was 4,460 yen/tsubo. There was a slight increase in vacancy rate, but demand remained solid. For example, all six new properties were opened fully committed in the fourth quarter of 2020, and three of them were taken wholly by logistics firms. Market condition in other regions such as Kinki is also tight. The vacancy rate in the first quarter of 2021 was 1.9% in the Kinki region (-1.8 pt. YoY), 8.6% in the Chubu region (-1.7 pt. YoY), and 0.0% in the Fukuoka region, which starts to be included in this survey from this fiscal year.
As was seen in the fourth quarter of 2020 in the greater Tokyo region, large-scale facilities have been leased one after another to meet the demand from growing e-commerce business. Such state of excessive demand continues, and newly developed spaces, if any, are snatched up quickly. Locations close to the city center (such as the Tokyo Bay Area) are particularly attractive to developers because they can command high rents. Actual developments are often happening, however, in areas far from the city center (such as the Metropolitan Inner-City Expressway area), because securing development sites near the city center is difficult. Even in the areas remote from the city center, there are enough takers of spaces. So leasing is not a problem. A real problem in such areas lies in operations. Staffing is a headache for operators in many facilities. Even logistics facilities that are increasingly mechanized still require a certain number of personnel to maintain and operate.
In a densely populated area (city center), it is relatively easy to secure personnel although the rent level is high. But the further you go out to suburbs, the fewer number of working age population can be found. So it is becoming difficult to secure personnel without raising wages and boosting satisfaction rating of working environment. Otherwise the retention rate will stay low. So, various measures to maintain satisfaction rating of working environment are indispensable. Taking commuting for example, since logistics facilities are often located far from the nearest train stations no matter whether they are in the central city or suburban areas, courtesy bus service to and from the facilities is regarded as a matter of course.
There have been an increasing number of cases where lounges, shower rooms, etc. are also provided to improve working environment. In addition, when developing facilities in sparsely populated areas, it may be necessary sometimes to rely on local housewives for staffing, and consideration may need to be given to the environment for child-rearing, such as providing a nursery. In order to secure human resources constantly, attractors such as creating an environment that is more comfortable to work in than other facilities have become indispensable these days. The logistics market is expected to grow further with unabated e-commerce demand. However, as the market continues to expand, attention must be paid to the improvement in operational aspects.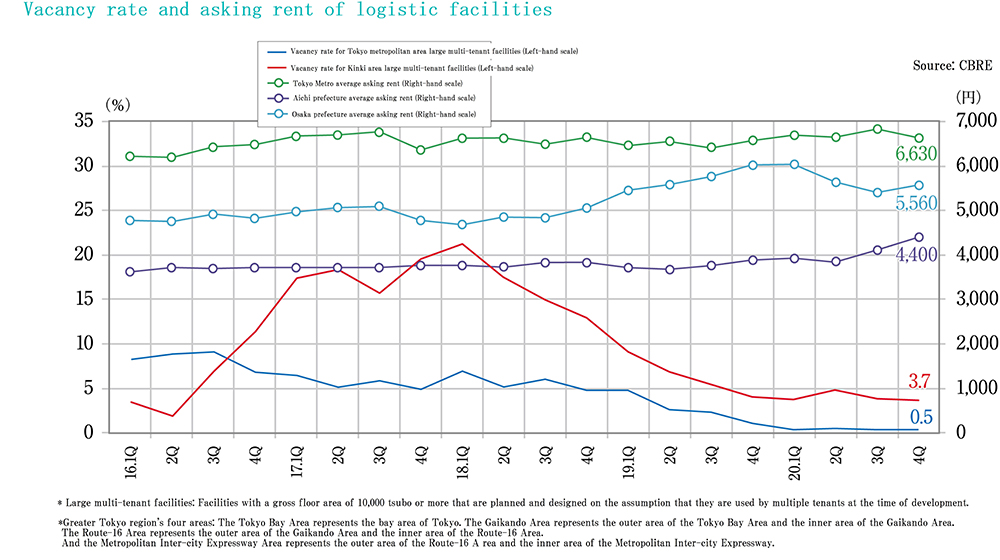 Residential
The residential market has been brisk even in the coronavirus catastrophe since 2020. Secondary and leasing markets of condominium units are both strong
According to Real Estate Economic Institute Co., Ltd., supply of new condominium units in the greater Tokyo region 2Q / 2021 was 3,103 in March (contract rate in the initial month of sales start @73.6%), 2,089 in April (ditto @73.6%), and 2,578 in May (ditto @69.3%). The May number equals to 556.0% of the same month the previous year, when many show flats were closed due to impact of the coronavirus disaster. Average price, average floor area, and average unit price in May were 59.08 million yen, 63.4 sqm, and 3,081,000 yen per tsubo, respectively.
Inventory at the end of the month was 6,789 units (down 228 units from the end of the previous month). Both the average price and average unit price fell, but the contract rate remained around 70%. Average price and average unit price in April were very high at 77.64 million yen and 3,719,000 yen/tsubo respectively because there was a large supply of high-end properties in the 23 wards of Tokyo, which accounted for nearly half of the supply in the greater Tokyo region (Average price and average unit price in the 23 wards of Tokyo in April were 101.8 million yen and 4,948 million yen/tsubo, respectively). In the Kinki region, new supply was 1,815 units in March (contract rate in the initial month of sales start @74.8%), 1,093 units in April (ditto @62.0%), and 1,321 units in May (ditto @78.3%). Average price, average floor area, and average unit price in May were 38.28 million yen, 54.7 sqm, and 2,314,000 yen/tsubo, respectively. The average unit price recorded an increase for two straight months in a row, and also the contract rate improved. Inventory at the end of the month was 3,438 units.
According to Real Estate Information Network for East Japan, numbers of second-hand condominium units contracted in the greater Tokyo region in March-May 2021 were 4,228 units in March (+16.1% YoY), 3,428 units in April (+110.4% YoY) and 3,297 units in May (+94.9% YoY). Average age, average price, and average unit price of properties contracted in May were 22.69 years, 38.13 million yen (+15.7% YoY), and 1,937,000 yen/tsubo (+12.6% YoY), respectively. Both the average price and average unit price were on an upward trend, showing solid demand in the market. Inventory and new listing numbers in the month decreased to 33,801 units and 13,003 units, respectively, and supply and demand condition for second-hand units are getting tight.
In the rental housing market, rents continued to rise to a high level, with the average of 12,767 yen/tsubo in Tokyo, 8,324 yen/tsubo in Osaka, and 6,400 yen/tsubo in Nagoya. In the first half of 2020, when marketing activities were restrained due to COVID-19, both sales (of new and second-hand properties) and leasing were difficult. However, the residential market began to recover as early as the end of the Golden Week 2020. Now supply of new condominium units are increasing and contract rate is improving after several years of difficulty in developing properties due to rising land prices and construction costs. Especially from the spring of 2021, housing units affordably priced for the first time buyers have been selling well located in the suburban areas where surroundings are pleasant even though it takes longer to commute to the city center.
Although it is predicted that a supply of new single-detached homes will decline due to various factors, including the wood shock, residential properties as a whole have been selling steadily despite concerns about a declining birthrate, aging population and a decline in the number of households, as well as the coronavirus pandemic. From now on, a supply of new products with an emphasis on quality will be expected to grow by unearthing demand which has been hidden or weak in the market so far.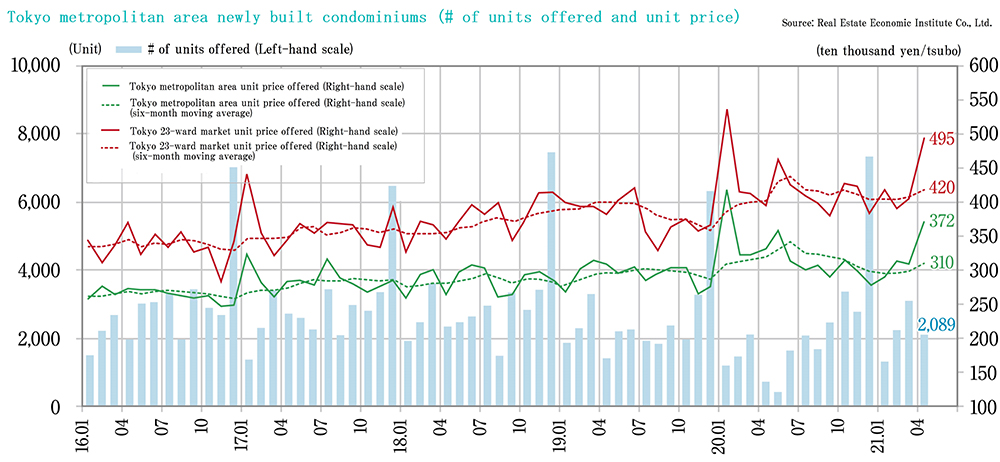 ​