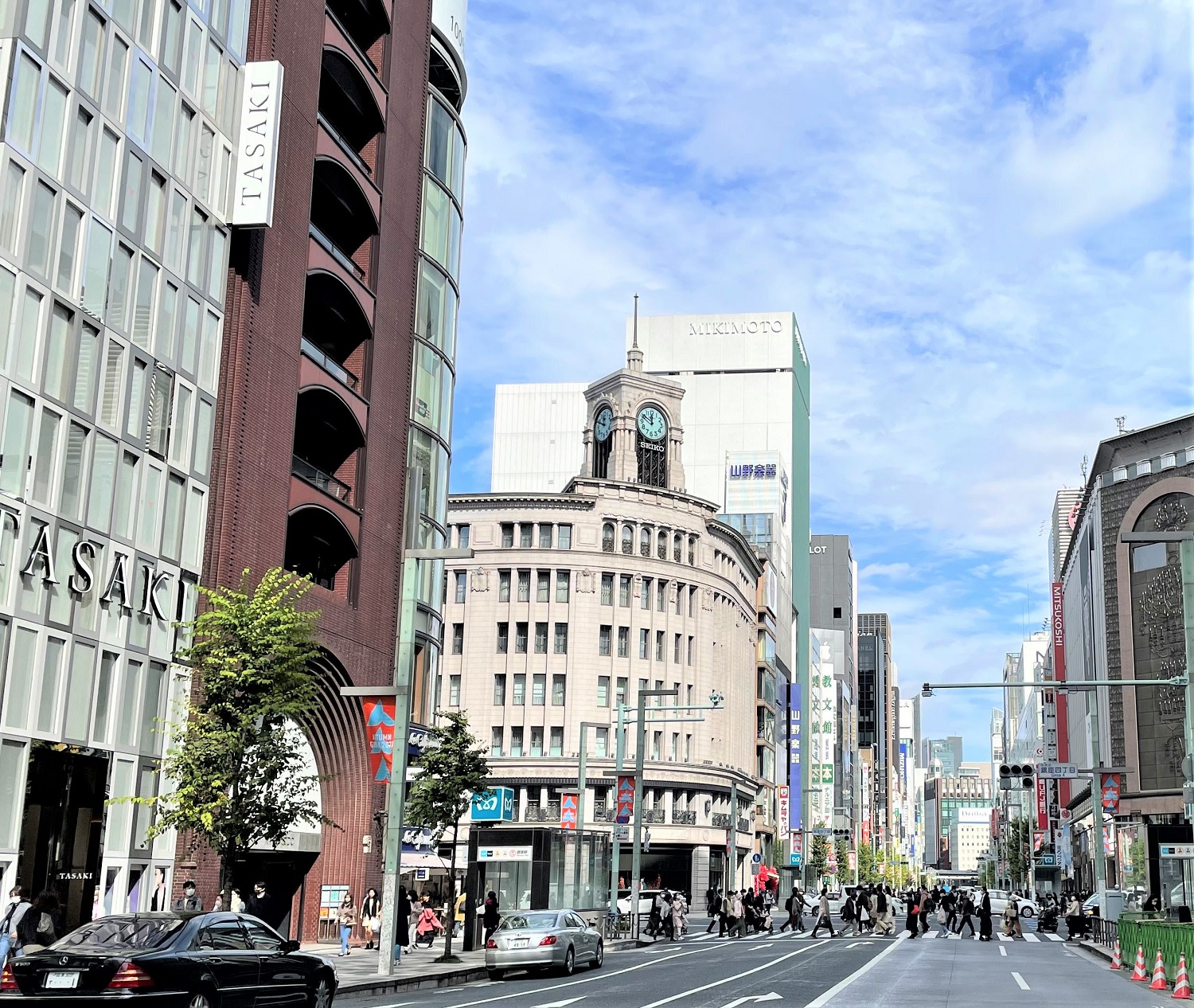 PROPERTY MARKET TRENDS | 2Q 2021
・Residential market: New construction market is trending up, on the back of the hot second-hand market.
・Office Market: Vacancy rates continue to rise both in Tokyo and regional cities over a prolonged period of time.
・Hospitality market: There is a succession of high-end hotels newly opened, as domestic travelers are coming back.
Despite the protracted impact of COVID-19, there are signs of recovery, such as Nikkei Average restoring a JPY 30,000 level and a significant increase in Business Conditions Indices (leading indices).
TEXT: Yoko Fujinami, ib Research & Consulting Inc.
Toru Kawana, Industrial Marketing Consultants Co., Ltd.

Residential
In Tokyo metropolitan area, condominium units either brand new or second-hand are steadily selling well.
Products befitting to work-from-home are especially getting popular.
■New condo. sales in Tokyo metropolitan area
・Average initial sales price, floor area, and unit price were JPY 65.84 million, 66.57 sqm, and JPY 3.269 million per tsubo, respectively, in September. The number of units supplied in the month resumed a level over 2,000, even though it was still smaller by 6.7% YoY. Inventory at the end of the month was 5,614 units. Contract rate in the initial month of sales start remained within a range of 70% plus or minus 3%.
■New condo. sales in Kinki region
・Average initial sales price, floor area, and unit price were JPY 47.57 million, 62.34 sqm, and JPY 2.522 million per tsubo, respectively, in September. The number of units supplied decreased slightly, and contract rate in the initial month of sales start was weak and somewhat sluggish.
■Second-hand condo. sales in Tokyo metropolitan area
・There were 3,176 contracts made in September (-4.6% YoY). Average age, sales price, and unit price of properties contracted were 22.83 yrs. old, JPY 39.85 million (+5.6% YoY), and JPY 2.054 million per tsubo (+4.9% YoY). While both sales price and unit price rose, numbers of contracts, new listings, and units in inventory were trending downward probably as a result of a wait-and-see attitude of potential homebuyers and shortage of suitable units on the back of soaring market price.
■Market overview
・The residential market recovered from sluggish sales in the first half of 2020 since this fall, and now turned bullish (in Tokyo metropolitan area as of September 2021) with average sales price of new condo. units exceeding JPY 65.84 million.
・No matter whether brand new or second-hand, a relatively bigger condo. units with certain spare space to be set aside for work are preferred to compact units focusing on convenience and amenities. Thus, good sales can be expected in the case of condominiums even a little distant from stations in the suburbs if units are roomy and prices are reasonable.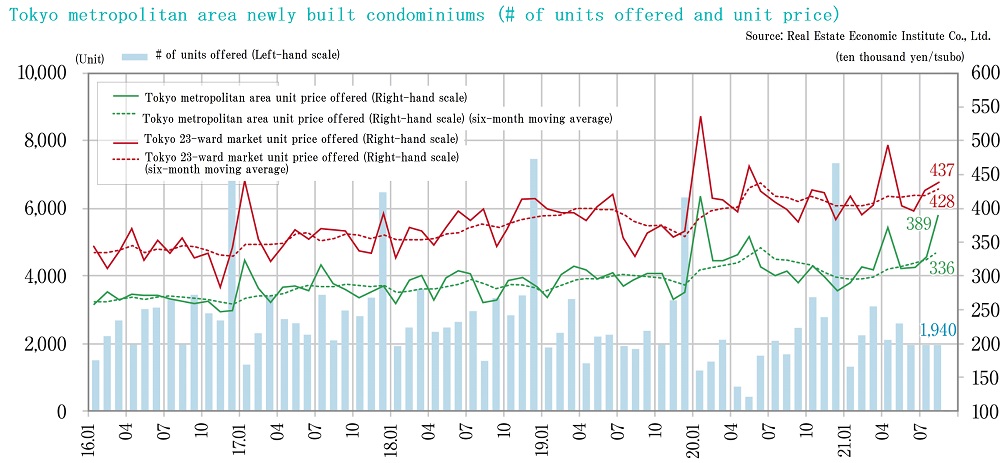 Office
Growing number of people are returning to offices from work-from-home. Competition for tenants intensifies among large-scale buildings as welll as among small-to-medium size buildings.
■Large-scale office buildings in Tokyo CBD (Central 5 Wards)
・Vacancy rates rose for 19 consecutive months to reach 6.43% in September, i.e. an increase of 3.00 ppt YoY.
・Average rent declined for 14 consecutive months. It was down from JPY 21,045 per tsubo in July to JPY 20,858 per tsubo in September. It was a drop of 8.25% YoY.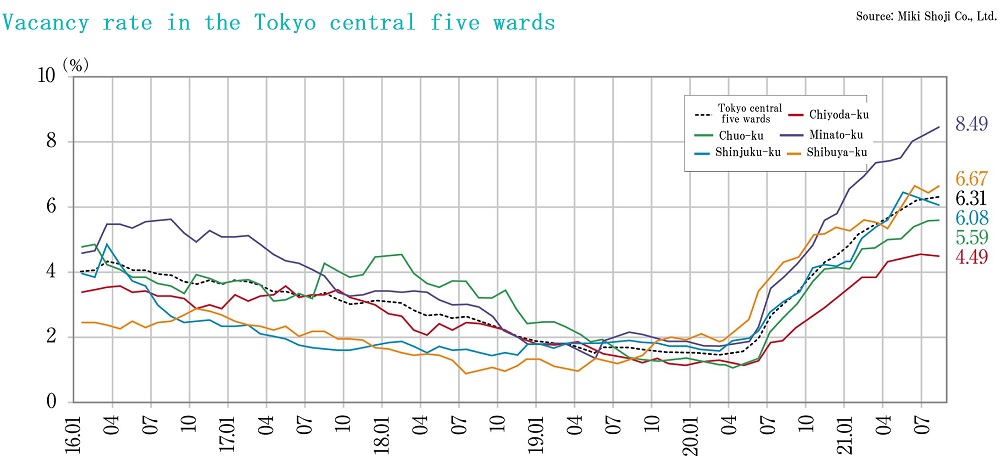 ■Vacancy rates in major regional cities / September
・Sapporo at 2.89%, -0.18 ppt MoM (slightly improved)
・Sendai at 6.51%, -0.17 ppt MoM (slightly improved)
・Yokohama 4.38%, +0.17 ppt MoM (deteriorated)
・Nagoya at 4.92%, +0.74 ppt MoM (deteriorated)
・"Osaka" 4.33% +0.06 ppt (deteriorated)
・Fukuoka at 4.55%, +0.02 ppt MoM (leveling off)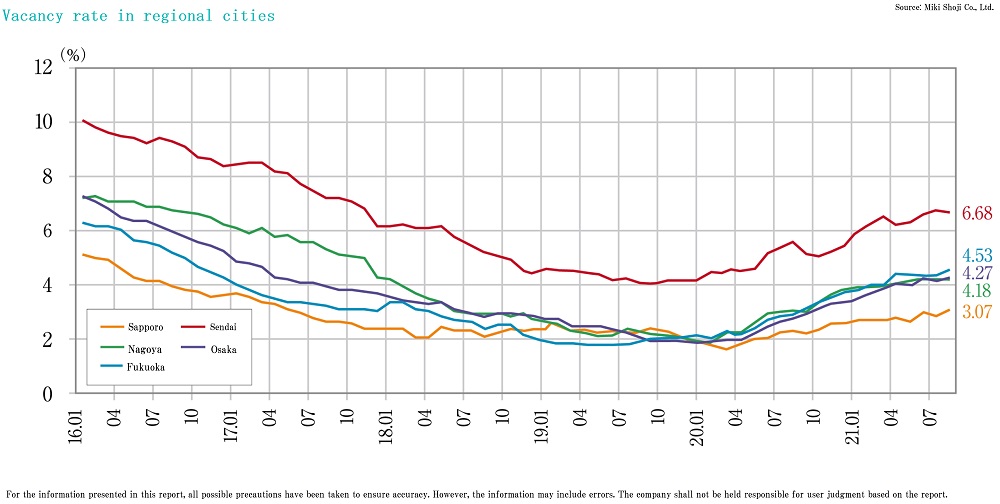 ■Small-to-medium size office buildings
・As a countermeasure against swelling vacancies caused by contraction of businesses due to COVID-19, there were a certain number of cases where small-to-medium size buildings next to each other were rebuilt into a medium-to-large size building especially in sections a block or two behind broad streets where small-to-medium size buildings of 50+ yrs old owned by individuals were densely concentrated.
・From now on, increasing number of prime high-rent large office buildings fully equipped with the state-of-the-art HVAC and sophisticated security systems will be supplied through redevelopment and renovation to cope with various modes of work including work-from-home. On the other hand, it is foreseen the business environment for old, small-to-medium size buildings that cannot be reconstructed and have to be offered at nothing but discounted rent will turn severer.
■Future market outlook
・Now that the state of emergency is lifted as of October 1, 2021, a major change in market trends will occur.
・A survey on an attitude toward work-from-home shows, not only managers but also workers actually prefer work together physically in the office (because they often experience inconvenience working isolated at home) even though they admit it is now one of working practices.
・While some companies, such as NTT Group, are promoting work-from-home and/or mobile work from satellite offices, the majority of companies, especially small-to-medium sized businesses, are having second thoughts about (and discontinuing) work-from-home in order to encourage people to come to work.
・Competition for tenants among large-scale buildings will intensify as growing amount of new office floors are coming from them as major components of CBD redevelopment projects. Hence, it is necessary for the owners of small-to-medium sized buildings to come up with a game plan for survival in the niche market.

Hospitality
Demand is expected to increase as the "Go To Travel" campaign is resumed. Speculating on a resurgence in demand from inbound tourists, a succession of high-end hotels are newly opened.
■Statistics by Japan Tourism Agency
・The total number of overnight guests was 30.47 million in August 2021 (about 50% of the number in August 2019), of which 615,000 were by foreigners (about 7.5% of the number in August 2019).
・Business hotels held the largest share, but the number of overnight guests in that category was only 11.31 million (about 50% of those in August 2019).
■A series of new hotel openings amid the COVID-19 disaster
・In Tokyo, Kyoto, Osaka and Kyushu, high-class hotels operated by well-known hotel brands are opening one after another. These were planned before COVID-19 pandemic, and opened, though somewhat later than initially projected, without revision of target customers originally envisioned.
・"Fauchon L'Hotel Kyoto": The first in Japan, and the second in the world.
・Marriott International: "W Osaka" (the first in Japan), a luxury lifestyle hotel, and "Moxy Kyoto Nijo" (the 4th in Japan)
・Hilton: "ROKU KYOTO, LXR Hotels & Resorts" (located at the foot of Takagamine Three Mountains, Kyoto), a luxury brand
■Future outlook
・The government has initiated measures (such as relaunch of Go To Campaign) to revive economy now that the number of COVID-19 carriers fell greatly as a vaccination rate rose within Japan, even though the prospect for recovery is still dim. ・There are reports that the number of hotel bookings by travel agencies has been increasing since rescission of the state of emergency. People's interest in domestice travel is on the rise and the hospitality market overall is in the process of recovery, while the near-term prospects for a large number of inbound tourists coming back are chill. ・In the business hotel segment, it is worthy of note how far business travelers' demand, which used to occupy a lion's share of business, will be recovered now that meetings on-line come into wide use.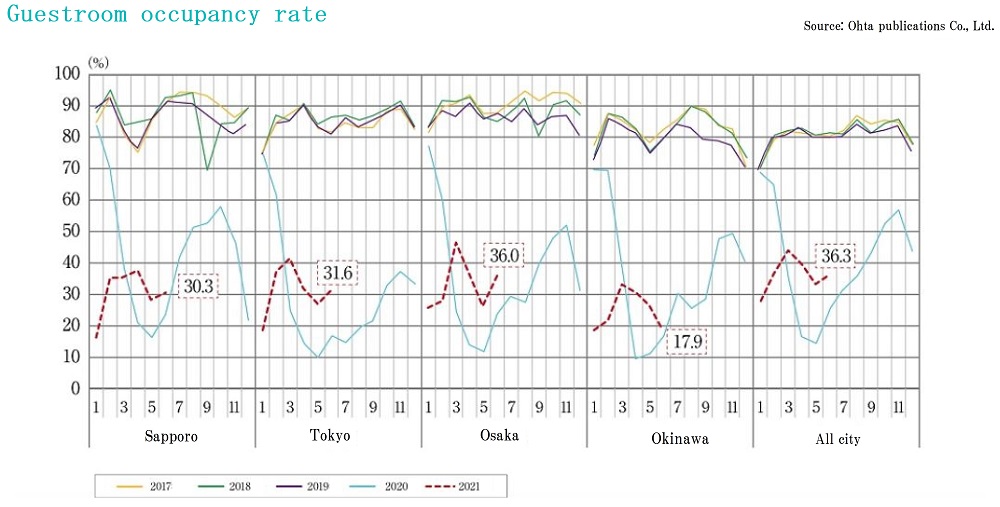 Commercial
Recovery is hoped for in the Autumn / Winter season when many occasions for consumption arise.
■Sales volume and status quo of shopping centers
・Existing store sales for shopping centers (overall) in August were approximately JPY 392.6 billion (down 11.6% YoY). It was a significant drop in the number of sightseers and homebound tourists due to soft curfew imposed as a measure against COVID-19 on top of a decline in consumption during the summer vacation period that pulled down the sales figures.
・Starting from October, sales promotion will be launched in parallel with verification experiments to ease restrictions on the movements of people due to the increase in vaccination rates. Demand during such occasions as Halloween, Christmas, and New Year's holidays, when people are increasingly motivated to do shopping, and traffic of people are expected to recover while measures against infection are meticulously taken.
■Challenges Japanese department stores are facing
・During two decades after the burst of bubble economy, shopping centers (SC) and general merchandise stores (GMS) wrested the initiative in retail sales from department stores.
・Department stores cannot sell goods just relyin on their brands any more these days, and turn into landlords who compete to secure powerful tenants.
・They have failed to catch up with the shift to high-mix / low volume merchandising necessitated by recent diversification of consumers' taste in the clothing & accessories division, a staple product of them, and are trapped in the severe business conditions loaded with a huge amount of excess inventory.
・While taking advantages of superior locations and brand power, the management of department stores will have to take measures to reposition them, by promoting thorough realization that department sections are now showrooms (inventoryless management), establishing an e-commerce system fully recognizing customer needs, and specializing in customer-oriented services to cater for loyal customers.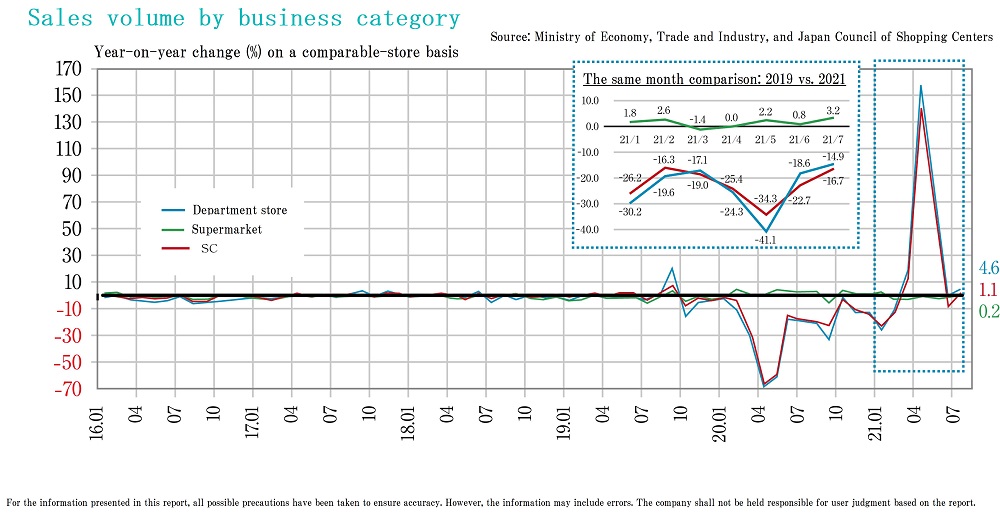 Logistics
New supply is growing in Tokyo metropolitan area, while demand-supply situation is tightening in Kinki, Chubu and Fukuoka regions.
Heightened cost-consciousness in the midst of overheating demand
■Market condition in greater Tokyo region
・Vacancy rates for large multi-tenant facilities (LMT) were 1.5% in the second quarter (April-June), exceeding 1% as well as the first quarter (January-March). There was a substantial new supply in the National Route 16 area, and the demand for properties relatively inferior in terms of locations and/or specifications has somewhat softened.
・Effective rent went up by JPY 10 per tsubo from the first quarter to JPY 4,470 per tsubo.
・Although there has been no major change overall, it takes longer to lease overpriced properties because of intensified competion due to an increase in new supply over the last year or two.
■Market conditions in other regions of the second quarter
・The vacancy rate in Kinki region was 1.7%, a record low since 1Q 2015.
・In Chubu region, the vacancy rate was as high as 6.5%, but it was down 2.1 ppt from the previous quarter.
・In Fukuoka area, there has been no vacancy since the second quarter of 2019.
・Overall, demand has continued to exceed suplply in each region.
■Future outlook
・According to a poll of companies using logistics facilities, more than 60% of respondents expected business environment would improve over a medium term, and 82% answered that expansion of logistics space should be required to cope with an increase in cargo volume forecasted.
・In terms of locations, urban-type distribution centers, satellite city centers around metropolitan areas, and shipment sorting facilities are highly demanded. As far as specifications are concerned, HVAC, emergency power generators, and high environment performance / sustainable facilities are preferred.
・Companies using logistics facilities are also looking for installation of equipment for mechanization / automation while costs of space, transportation / delivery, and labor are expected to increase. This will accelerate cost increase further.
・Now the time has come for the occupiers to select logistics bases by considering the balance between location and rent, as well as the extent to which they should accept a cost increase for the sake of modernization of the facilities.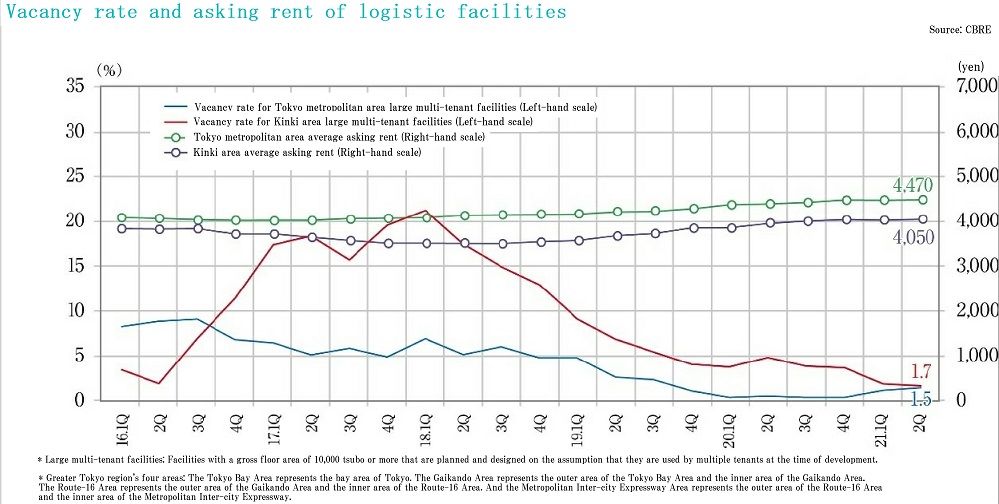 J-Reit
The aggregate market capitalization of J-Reit has reached an all-time high.
There wa a downward pressure on performance in each category, but it was counterbalanced by measures to supplement income.
■Ascent of J-Reit
・At the end of June 2021, the Tokyo Stock Exchange REIT Index stood at 2,150.73 point, up 6.84% from the end of March. AUM of all J-Reit's combined increased by JPY 191.2 billion from March to reach JPY 20,837.4 billion.
・Investment unit prices have been rising because of expectation for normalized economy along with progress in vaccination, apprehension about inflation in the US, and revelation by overseas investors that J-Reits are left untapped.
・The aggregate market capitalization of J-Reits recorded an all-time high of JPY 17,528.2 billion topping the previous record of JPY 17,387.9 billion just before the occurrence of COVID-19 in February 2020, aided by an IPO for the first time in a year and half and a series of PO's.
■Topics
・Tokaido REIT Inc. (listed on June 22) is another regional-type J-Reit that focuses on a specific region as well as Hankyu Hanshin REIT Inc. and Fukuoka REIT Corporation, and its policy is at least 60% of investment is to be concentrated in Shizuoka, Aichi, and Mi-e prefectures.
・A US investment fund launched a hostile TOB against Invesco Office J-REIt Investment Corporation for the purpose of delisting it. The sponsor of the J-Reit, however, countered with and succeeded in a defensive TOB. This case gave rise to a new problem in managing a listed J-Reit.
■Summary
・Additional capital was raised by not only logistics and residential J-Reit's but also by office and commercial J-Reit's as investment unit prices came back to a normal range.
As a result, properties of various types are added in the pool.
・To cope with lingering downside risks in J-Reit performance such as a rise in office vacancy rate due to the spread of work-from-home and corporate consolidation, and a decline in revenue due to rent abatement for hotels and commercial properties under the state of emergency, certain strategies have been adopted to supplement income including augmentation of AUM and / or disposion of properties.